Server upgrades & migration ensures Housing Agency can keep helping people affected by Pyritic Heave.
OpenSky collaborates with the Housing Agency to deliver a fully managed application, data hosting services, and migration for system data related to its essential program to help people with heave-damaged homes.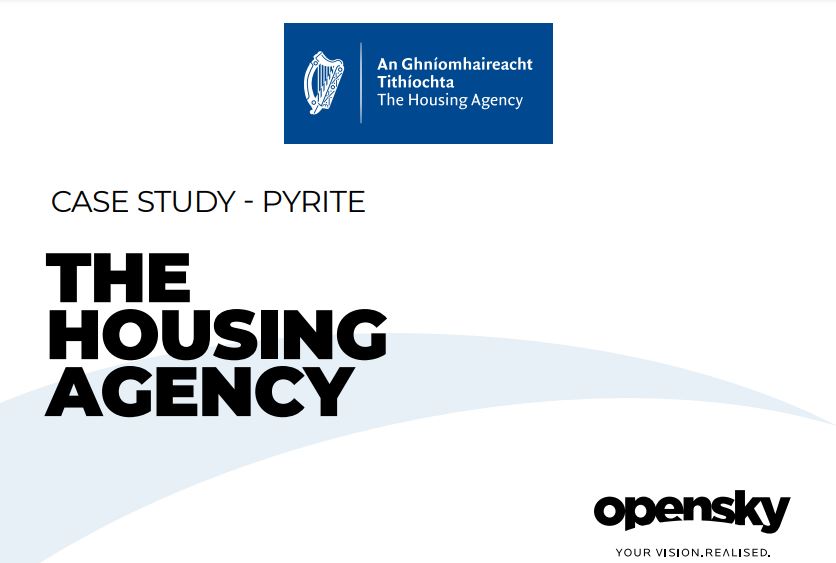 The Business Challenge...
Faced with a rapidly approaching End of Support threat for its version-2008 Microsoft Windows and SQL Server systems, the Housing Agency engaged OpenSky to migrate its systems and delivery fully managed hosting services for its critical citizen assistance portal for those with homes affected by Pyritic heave.
OpenSky set up new servers with up to date versions of Microsoft Windows and SQL Server Software migrated the Housing Agency's systems to it, and delivered fully managed hosting services for the Pyrite Application using a fully supported and compliant Microsoft server software configuration.
KEY FEATURES & BENEFITS...
Improved Security & Eliminated Risks
The Housing Agency's system is now running on supported versions of Microsoft Windows and SQL Server platforms, guaranteeing continued security.


Faster and Better Performance
With this move to a newer versions of Microsoft services and upgraded server software, the Pyrite Application now enjoys enhanced system performance.


Full Protection Against Threats and Breaches
Microsoft Windows and SQL Server 2017 are fully compliant & secure against security and data breaches.


Multiple back-ups & failsafes
All critical Pyrite application Housing Agency data is backed up and protected in a safe and secure location
Submit your Details to Access Download