The State of Automation in the Private Sector 2022
Automation is a fast growing and vital component of modern business. OpenSky's Microsoft Cloud Practice Lead, Phani Kodali, shares his expert analysis of the state of Automation in 2022, drawing on 9 years of automation, development and QA expertise to reveal what companies can and should be doing to automate workflows and unlock better business outcomes.
The incredible growth in automation sparked by the global shutdown during the pandemic shows little sign of stopping in 2022, and even as restrictions relax and lockdowns end, hybrid working and process automation are continuing stronger than ever.
We've all seen the advent of remote work and hybrid work models, and this move towards more human-centred business is mirrored in companies using automation to make work less repetitive and soul-destroying. In offices across Ireland and the world, people are beginning to realise that their time isn't just worth respecting, but that it's profitable to respect it too!
Research shows that nearly 40% of productivity is lost in jumping between tasks, platforms and software - and can be simply recovered flattening or removing these 'jumps' – a task that automation excels at. By using data connectors to eliminate silos, banish the swivel chair effect, move away from clumsy paperwork, and turn workflows into one-click processes, businesses are achieving critical and brilliant victories: faster organisational practices that actively support healthier workplaces, better customer & user experiences, and wider margins.
Digital Automation is on the rise in every industry
Everywhere you look, automation is taking hold. A 2020 global survey of business leaders from a wide cross-section of industries conducted by McKinsey & Co. found that 66% were piloting solutions to automate at least one business process, up from 57% two years earlier, while the portion of companies that have fully automated at least one function has grown 2 percentage points from its 29% figure in 2018. Managerial work is a prime target of automation: Gartner predicts that 69% of all managerial work will be automated by 2024, and that 90% of large organisations throughout the world will have adopted RPA in some form by 2022. They also forecast that virtual agents will dominate customer service in the coming years, with 70% of customer interactions using automated AI and machine learning technology in virtual agents by 2025, up from just 15% in 2018.
Now, that's a bold prediction, but when you look at the burgeoning market share of automation across the business and digital landscape, it should be acknowledged that it's an accurate prediction.
According to research from Grand View Research, the market value of Robotic Process Automation market (valued at $1.4 billion in 2019) is forecast to grow at a CAGR of 40.6% between 2020 and 2027. Digital process automation (DPA), the relatively new, lightweight, lower-code cousin of Business Process Management, was a $7.8 billion market in 2019; it's forecast by Mordor Intelligence to grow at a CAGR of 13%, reaching $16.12 billion by 2025.
Automation is a technological response to human needs. People don't want to jump between calls and emails and SMS and letters and physical offices just to get things done. Automation flattens this flows of information so that every user – whether they're customers, office staff, managers, or executives – can get things done with as little delay and difficulty possible.
In the work that I do, I've personally witnessed the serious efforts taken to make automation easier and more accessible to all people, regardless of their budget, industry, or technical skills. Microsoft has really stepped up its automation services and tools: they want every user to use some sort of automation. You see it with Teams, Outlook, Microsoft Power Automate, and other MS platforms and services, where smart assistance, suggestions, and plug-ins are making it easier to get things done, even without knowing a single thing about coding. They're also heavily democratising the automation space: with a single click, you can plug into an app, portal, tool, or connector that's already been developed, so you don't need to reinvent the wheel just to move your work along.
Automation is clearly vital – and the private sector are storming it!
The need for businesses to secure and maintain competitiveness and high efficiency through digital services, has exploded in the past three years and when it comes to the private sector, two factors dominate the uptake of automation solutions: Necessity and ROI.
While some IT Leaders in private enterprises are known to share a common perception that large scale automation is an unnecessary expense and that the ROI will not justify the investment wihin a reasonable timeframe, the majority of IT Leaders in the private sector, share a common trait of being more aggressive and agile when it comes to automation and modernisation in comparision to the public sector. Unable to rely on a state-backed monopoly and threatened by a growing list of competitors, businesses are quick to understand that better margins and more efficient operations are what translate into better market share and performance. Automation in the private sector is a must-have, not a like-to-have!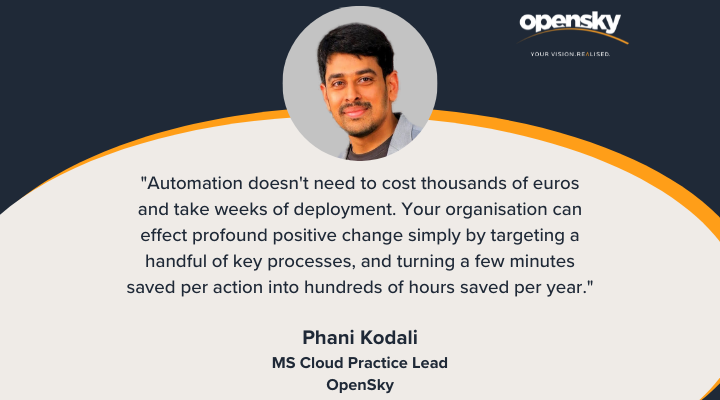 Common Processes in the Provate Sector for Quick-Win Automation!
HR Processes such as expense reports, performance reports, leave requests, team management and workflow & task management - are all extremely easy to automate with low-code and low-cost tools such as Power Automate and we build automation around these processes in as little as 10 days!
And there's a growing awareness of the importance of businesses automating more processes to better deliver competitiveness in their organisation such as:
document management
workflow automation
automation of documentation creation and submission
automated interconnected workflows that plug teams into one another
chatbots and other virtual assistants for streamlining both internal and customer-facing processes
All of these processes play a vital role in squeezing more sales into the hours available in a single work day – particularly now that low- and no-code automation is so readily available at low cost and with no requirement to hire a team of developers to build or maintain systems.
This heightened level of automation and RPA competition and push for digital innovation is really exciting for me as a Practice Lead.
Your Organisation Has the Choice in the Complexity of Automation
When I look back on the last decade of automation, it's incredible to see how far digital automation technology has come.
It's not just everyday repetitive tasks being automated, like turning PDFs or paper documents into usable data, accelerating case management, or eliminating the swivel effect, it's a new kind of accessibility that we saw during Web 2.0, with interconnectivity at a premium, bringing control and choice to work, and allowing complex systems to be built from just a handful of connectors. Nowadays, you don't just click a button to auto-populate spreadsheets or generate reports; you connect your work, social, and email accounts to create these complex, multilayered end-to-end systems where all the work – all the invoice generation, customer support, stock checks, delivery requests, notifications and updates, and post-sale support – happens automatically and in real-time in the background.
It shows that automation isn't restricted to single-process functionality, and that it doesn't need to cost thousands of euros or take weeks for deployment. Your organisation has real choice in how much complexity and automation it needs, and you can effect profound positive changes simply by targeting a handful of key processes, and turning a few minutes saved per action into hundreds of hours saved per year.
Want to Automate? Here's my strongest advice...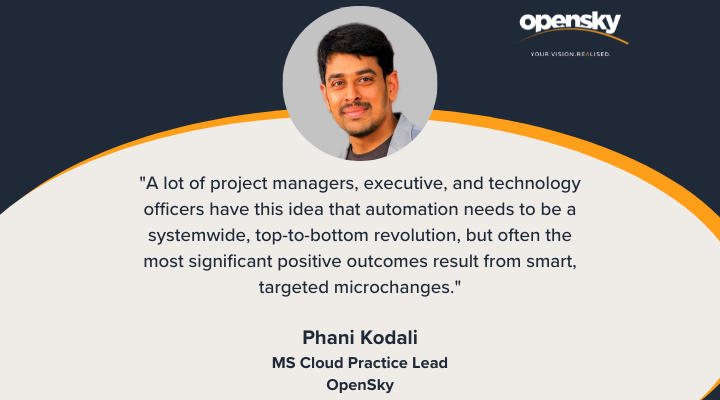 Think smaller, and target the tasks that you or your staff do most often. They're all over your organisation and in all of your business functions and projects. These tasks could be things like filling in paperwork, getting data from an email or spreadsheet or customer profile and putting it somewhere else, collating reports, reconciliations, customer service & complaints management. turning inquiries into stock requests, order forms, delivery requests, and request for payment notifications - amongst many many many others.
In one project we've just delivered, we were able to save a client more than 200 hours of administrative labour a year in just 20 hours of development and deployment, saving between 22-27k in resource costs each year.
Since 2004, OpenSky has been delivering high-impact, high-ROI automation solutions to some of Ireland's & the UK's largest private sector enterprises and government agencies. The work we've done has helped hospitals get critical vacancies approved and filled more quickly, helped major public projects manage capital grants more easily, and help government agencies lead Europe in terms of interagency collaboration.