Business Intelligence: 4 ways businesses use Power Automate
Matthew de Klerk
In 2022, Microsoft Power Platform is proving to be one of the best digital automation tools on the market. Its low- & no-code accessibility, high level of platform & device flexibility, and staggering amount of tools and features give businesses of all sizes faster, better, more strategic services. Here's how businesses are using Power Platform's incredible automation tool, Power Automate, to gain their edge.
Microsoft Power Platform, with its suite of powerful tools and expansive library of third-party apps and connectors, is a game-changer for businesses that want to automate work, save time and money, and make their operations faster, smarter, and more efficient than ever. Power Automate is the linchpin of this suite of tools, and is at the heart of organisational automation.
Research shows that Power Automate has the ability to totally redefine the way your business gets its work done. Many businesses that underwent automation through this tool reported multiple positive business outcomes, including significant process acceleration, reduced delays, fewer manual and paper-dependent processes, more staff freed up for more business-critical tasks, and dramatically faster deployment, delivery, and time-to-market. Most notable, Power Automate saved companies 26,660 worker-hours per year; and in one single business case, automation delivered another company a three-year return on investment of 199 percent. Finally, surveyed companies reduced time-to-market by as much as 33 percent.
From workflow & process automation, to data processing & verification, to the creation of data-driven operation strategies, here's how businesses are using Power Platform, Power Automate, and its extensive suite of tools to get work done better.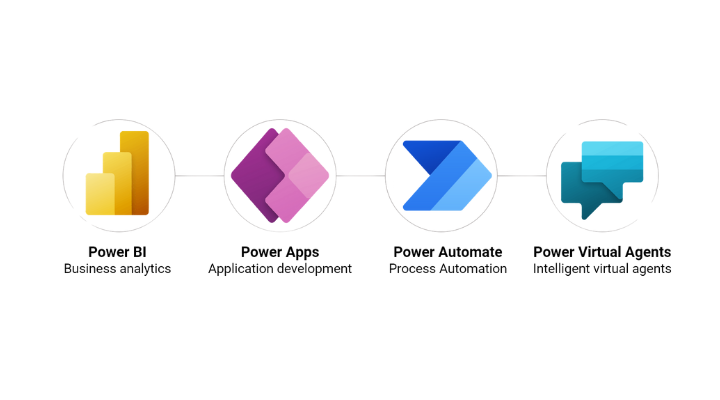 Automate time-consuming, repetitive work that everyone hates
Power Platform's stand-out ability is how it lets organisations (even those with limited or no developer capacity) automate their work and business processes. It does this through powerful end-to-end business solutions that use the extensive suite of Microsoft products, including SharePoint, Teams, Office 365, Microsoft 365, Dynamics 365, Azure, and hundreds of other apps. Its feature-dense, low-code approach allows you to move data more efficiently across your organisation and make work easier, faster, or totally automatic, even without dedicated developer resources.
At a real-world level, this automation translates into hours of time saved in doing some of business's most repetitive, common tasks. What can Power Automate do in your work? Well, to name just a few, these tools can:
Extract, validate, and report on data automatically from databases, spreadsheets, PDFs, or any other data source.

Take information from forms, PDFs, pictures, emails, and other data sources, and make it easy to use across your business.

Take common business processes – such as taking orders, checking stock, filling invoices, and sending customers updates – and turn them into a single-click automated workflow.

Eliminate third-party or additional processes that take valuable time or effort just to verify data, create documents, or other tasks that get in the way of getting things done.

Make business information and important documents – such as email attachments, social media content, teams tasks, and so on – automatically available to everyone who needs them in your organisation.

Automate the process of mapping out projects or work flows, such as turning correspondence into Planner tasks, project management tool phases, and notifications to critical team members.
How we automate our customers' work
In our work with the RCSI Hospital Group, our automation solutions are helping to make it faster and easier to approval critical vacancies for personnel hiring. The hospital group received an average of 120-140 post applications each week from the clinical sites, and these roles, whether they're new services, replacement posts, or promotion, each require approval at either the sub-committee level in the group or by the HSE Group Employment Control Committee (GECC).
Our Post Application Control System (PACS) replaced the non-standardised, highly manual post applications system in place, bringing automated Approval to Hire forms, information population using highly important pre-defined data (such as the post funding source, contract type, contract duration, grade, department, vacancy type, hours etc), and post application status-driven workflows which trigger the generation of automated notifications to relevant personnel in the post application process, as well as functionality to upload & manage associated documents required to support the approval of the application. You can find out more about this project success by downloading the RCSI PACS case study.
Finally, in our Project Reporting System developed for the National Transport Authority, we accelerated their team processes and drastically increased their Ad Hoc Reporting speed. The new PRS upgrade has allowed NTA finance officers to cut down on time to complete an ad hoc financial query by 75% (from around 3 hours to just 45 minutes), and reduced the time to create capital expenditure reports from 5 days to just 2 days on average. Learn how automation did this by downloading our NTA PRS case study.
Aggregate Data from Multiple Sources
In 2022, data is a business's most valuable resource. Businesses looking to get the most out of their data can connect multiple disparate data sources to identify new markets, best-selling products, or fix business hurdles. However, this data connection process can be extremely tedious, time consuming and expensive. Power Automate's suite of tools makes this significantly easier, with over 150 data connectors available for use, and more being added regularly. These data connectors include many popular cloud-based sources, such as Azure, Google Analytics, SalesForce, MailChimp, and more. There are also connectors for excel spreadsheets, and other on-premises data, such as SQL databases.
With these connectors, businesses can load pre-built Power BI dashboard templates instantly and use other functionality for in-depth data analysis. This wide variety of data sources ensures that regardless of where or how businesses are collecting data, they can make the most of it, quickly and easily.
How we help real businesses get all their data in one place, fast
In our first real-world example, the
Pathway Accommodation & Support System we developed for the Dublin Regional Homeless Executive and Dublin City Council was instrumental in connecting multiple agencies and allowing 80+ government bodies and NGOs to collaborate on homeless services to deliver some of Europe's best homeless assistance. Today, this system is used nationwide to manage millions of homeless assistance request. Read more in our PASS case study.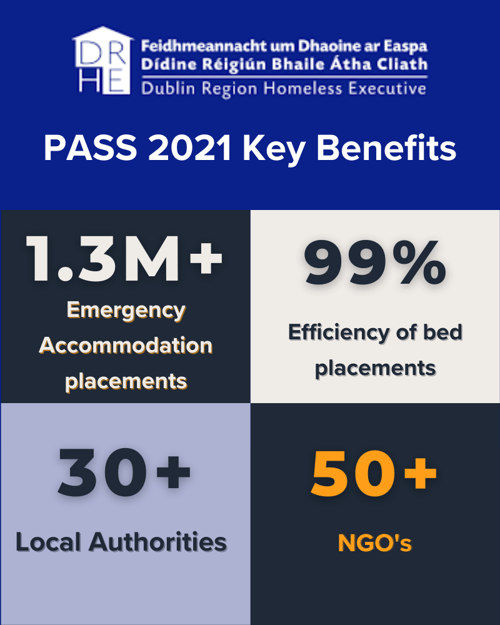 Enable Data-Driven Decision Making with accurate real-time data
Data modelling is an important stage in the decision-making process for businesses looking for sustainable long-term growth. With Power Platform's connectors and Power BI data processing, businesses can use no-code, automatically generated forecast models to view current trends, and anticipate outcomes from various scenarios with predictive analytics and forecasting.
Power BI can stream data from any source (whether its factory sensors or social media metrics) and update subsequent dashboards in real time. This functionality delivers insights based on what is happening at any given time, allowing organisations to make faster proactive and reactive business decisions. This tools also helps businesses visualise their data in an interactive, easy to understand format. These dashboards keep your finger on the pulse of your business's real-time health.
How we unlock valuable insights for real-world companies
First, our PASS system brought better top-down management of homeless services to the DHRE, increasing efficiency of their bed placements to 99% of capacity in more than 1.3 million placements. Bed capacity and availability are critical tools in understanding Ireland's national homelessness services and assistance, and having this data drawn from 80+ agencies and made available in near real time to policy makers helps to fine-tune national policy and programs.
In another government agency, the National Transport Authority, our PRS system allows fast & automated Integration with the NTA's internal finances portal. Previously it took around 6 hours integrate this portal's data into the old system; with the new PRS upgrades, it only takes 2 hours. All of the data that collects and moves through PRS allows NTA project managers a more informed top-down understanding of public projects and how capital grants are being allocated, paid, and used. The new system's exporting grid functionality and Power BI functionality has given has the ability to access data and reports in a meaningful way instantly, where previously these would have taken hours to compile.

Custom Dashboards and fast collaboration eliminate your departmental silos
Data is only valuable if you can use it strategically and intelligently, where it needs to be used. Power BI's custom dashboards allow you to turn mountains of irrelevant or superfluous data into targeted, useful insights for the teams who need it, allowing department members a more in-depth look at data, while avoiding data overload for management or executives.
Power Platform unifies your internal business environment and speeds up the flow of information and work so that you can finally connect your last remaining departmental silos and unlock full, fast collaboration. By making this data available where it needs to be accessible, across your entire organisation, you can eliminate silos while avoiding the obfuscation of data smog.
In even the best, most interconnected teams, automation tools could save your teams a few minutes on their workflows -- and while this might not seem like much, on an annualised scale the difference is night and day. In the oil industry, just a 1 percent improvement in oil recovery was worth 80 billion additional barrels per year -- the equivalent of billions of dollars in additional revenue, and in avoiding just one day of downtime on an offshore platform can prevent $7 million per day in lost production.
How we get rid of silos and create connected businesses
In another example, the Doctor's Integrated Management E-System (DIME) that we've developed for the Health Service Executive (HSE) brings teams, systems, and services closer than they've ever been through its 8 modules that allow simiplified, all-in-one electronic management of a wide range of healthcare administrative tasks, from exam refunds and automatic employment checks with the National Employment Record to electronic work experience logging and paperless training support and applications. This multipartite system is

simplifying

the very idea of healthcare HR management.
Download the HSE DIME Case Study here.
Ready to harness the power of automation in your business?
Power Platform and Power Automation are fast becoming the best business tools you can use in 2022. Since 2004, OpenSky has been delivering high-impact, high-ROI automation solutions to some of Ireland's largest public sectors and government agencies. Our Power Platform solutions will bring limitless convenience, efficiency, and performance to your business, like we've done for so many others for over nearly two decades.
We'll automate your data validation, help you eliminate manual processes and dependencies on paper documents, and much more -- just click below to get in contact to get your free, no-obligation consultation of the value we could bring to your teams, management, and bottom line.