Securing & Modernising Waste Services to nearly 700,000 Leicestershire County Residents.
OpenSky secures and upgrades critical waste management data system against an impending End of Support, allowing Leicestershire County Council to support achieving UK waste targets.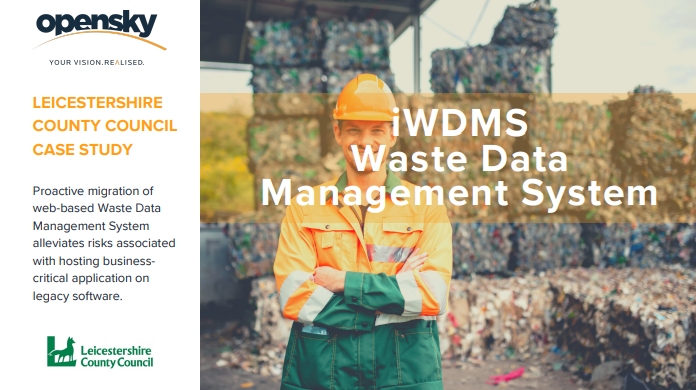 The Business Challenge...
Faced with a rapidly approaching End of Support threat for its Windows Server 2008 systems, the Leicestershire County Council engaged OpenSky to migrate its web-based Integrated Waste Data Management System (iWDMS) to Windows Server 2016, thus alleviating the risks associated with hosting a business-critical application on legacy software.
Through its fast and professional migration and support, OpenSky helped Leicestershire County Council maintain its Waste Management operations with full security, compliance and confidence.
KEY FEATURES & BENEFITS...
Improved Security
LCC's systems are now running on supported versions of Microsoft Windows Server and Microsoft SQL Server platforms, guaranteeing continued security.


Faster and Better Performance
With this move to a newer versions of Microsoft services, LCC's systems enjoy better web application performance.


Full Protection Against Threats and Breaches
Through this migration, iWDMS can run efficiently and reliably, with a significantly reduced risk of cyberthreats.



Submit your Details to Access Download