Taxi Registration System Enables Compliance Checks for 40m trips a year
Taxi regulation portal vastly expands legacy tools, allowing National Transport Authority officers to register and regulate 21,000 drivers per year in over 90,000 real-time audits -- with additional tools to streamline tax, customer complaints, driver validation by riders, and vehicle verification.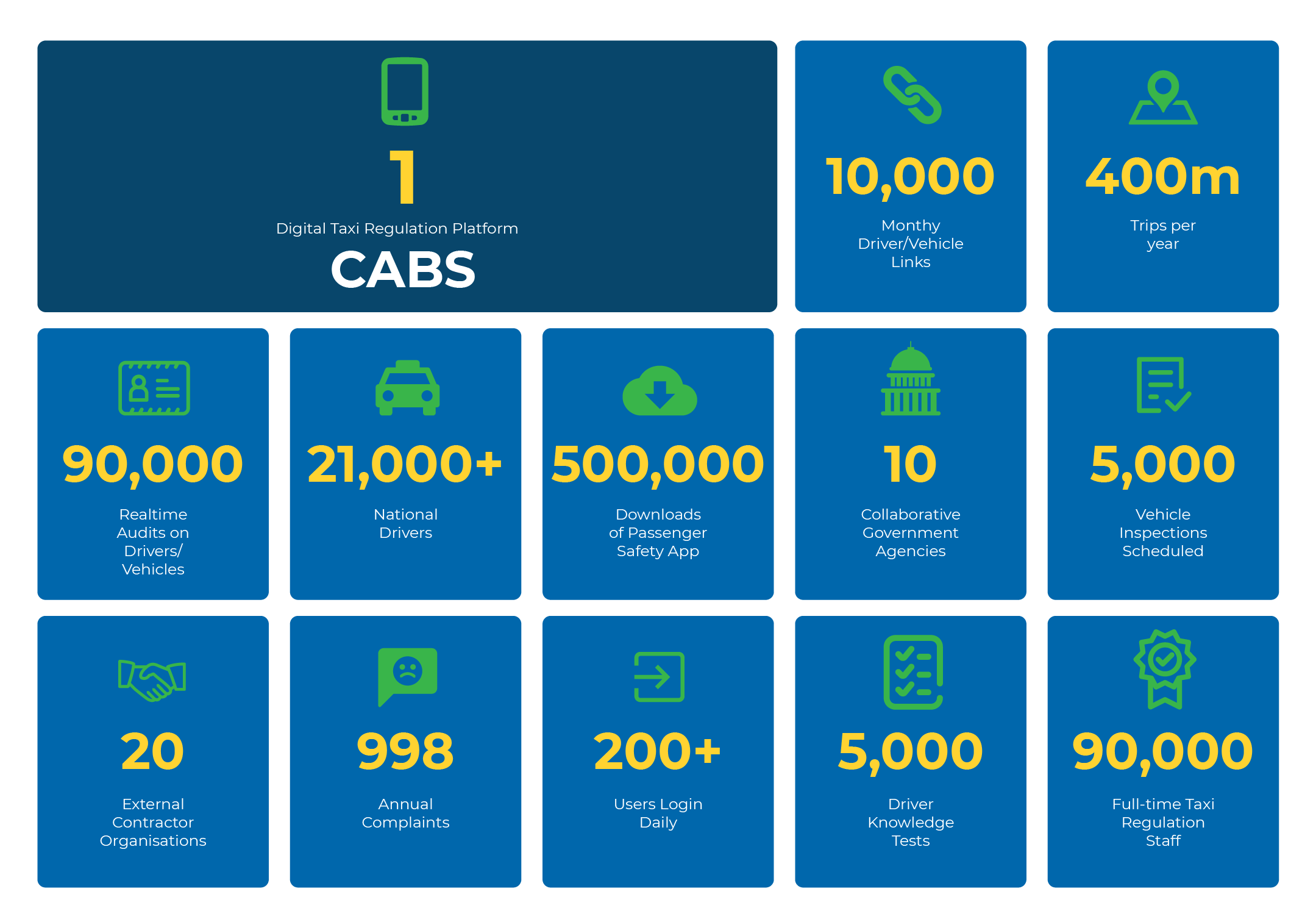 The Business Challenge...
Ireland's Taxi Regulation was subsumed in to the NTA in 2011. As part of this consolidation, the NTA inherited a number of business solutions known as CABS (Central Automated Business Solutions).
At its core, the CABS systems provided licensing databases for Driver and Vehicle licensing. The NTA needed this system to be built into a modern and robust taxi regulation platform that would deliver on the needs of the Authority over the coming years, while supporting public-facing consumers, including taxi drivers, members of the public, vehicle inspectors, and road-side auditors.
OpenSky's new portal brings Ireland's taxi regulation and compliance systems to a new standard in modern functionality, accessibility, and citizen-centered management.
KEY FEATURES & BENEFITS DELIVERED...
Increased Operational Efficiency and Functionality
Improved system access, faster data processing speed, and automated reporting save time and energy for key project managers, with extended functionality for customer complaints, driver validation, tax concerns, and skills checks.


Improved Cross-department Collaboration


CABS provides the ability to

exchange information with the Revenue Commissioners, the Department of

Transport, and the National Standards Authority of Ireland (among others).




Remote functionality for roadside audits and work on the go


The iCABS module allows NTA's enforcement officers

to remotely validate and link both the taxi and driver's licence details on the

roadside with a powerful remote tool.
Submit your Details to Access Download